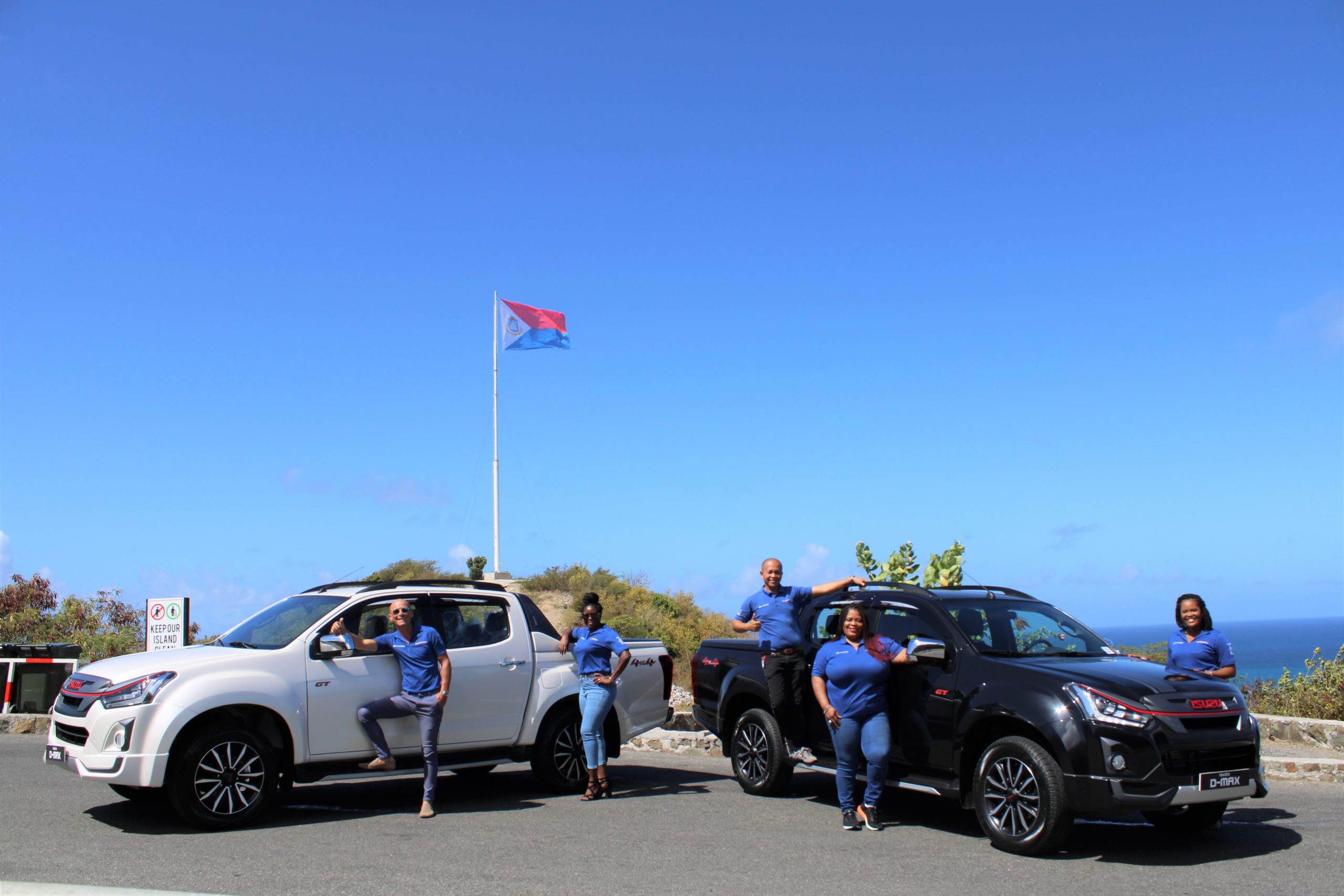 Introducing the New 2021 Isuzu D-MAX Pick-Up and MU-X SUV!
Motorworld's highly-anticipated launch of the All-New 2021 Isuzu D-MAX pick-up and Isuzu MU-X SUV on St. Maarten brings a renewed passion for trucks and SUVs that are built "for life!" The Isuzu brand is world-renowned for powerful craftmanship of the most durable and reliable commercial vehicles. This legendary reputation for reliability and quality further transcends into the manufacturing of Isuzu's prestigious line of pick-ups and SUVs.
In particular, the Isuzu D-MAX pick-up is built to "Go Wherever. Take Whatever!" with a host of premium style innovations, along with durable and reliable engine power. Furthermore, the Isuzu MU-X is a 7-seater SUV that is much more than a vehicle. It's a sanctuary for both the driver and the family, with countless built-in upgrades for the safety and security of everyone who steps into the comfortable enclaves of the MU-X.
Motorworld is known for offering affordable and reliable Isuzu Commercial trucks to the island of St. Maarten/St. Martin, and the surrounding region. With the addition of the Isuzu D-MAX and MU-X, models from Isuzu's Light Commercial Vehicle (LCV) fleet are now available as well!
"Isuzu is recognized for its long-lasting reliability which spans generations. Upon forging our partnership as the exclusive dealer of Isuzu's Commercial Vehicles, there has been ongoing demands for the pick-ups and SUVs. After a year of negotiations, we are truly thrilled to now be able to offer the All New 2021 Isuzu D-MAX and MU-X. With the customers in mind, we ventured out to meet those demands, and the D-MAX and MU-X are here and ready for the roads!", shares Tariq Amjad, Managing Director, Motorworld, the authorized Isuzu dealer on the island.
Isuzu MU-X SUV
When you bring together the worlds of tough and gentle, dominating and daring; the end-result is a SUV that is the best of both worlds, the Isuzu M-UX. The supreme strength marks the muscle of this vehicle while its amplified comfort and updated contemporary design mark its heart. This is the perfect blend of muscle and heart.
The following highlights some of the key features of the Isuzu MU-X:
 MU-X Engine & Transmission
The MU-X Semi-Loaded comes with 2.5L 4-cylinder turbo diesel intercooler VGS common rail engine 5-speed automatic transmission – 4×2. The MUX Fully-Loaded comes with 3.0L 4-cylinder turbo diesel intercooler VGS turbo common rail engine 5-speed automatic transmission – 4×4.
Exterior Features
With a design inspired by a majestic presence, Isuzu is now presenting the MU-X with more muscle and more heart. The MU-X features a radiator grille in chrome plating with its interior trim in light gray (Upper) and dark gray (lower). And not forgetting the Bi-LED type headlamps with LED DRL and headlamp auto leveling device!
A standard feature across the trim levels are the 18" aluminum bush less type wheels for its excellent off-road hill start assist, 6 air bags, LSD (Limited Slip Differential), ABS (Anti-Lock Braking System) with EBD (Electronic Brake Distribution. Upgrading to the MU-X Fully-Loaded, offers the ESC (Electronic Stability Control) with hill descent and automatic cruise control.
18" Wheels, plus Full Alloy Spare
Smart Key with Push Button Start
Rear View Camera
Projector LED Headlights, with LED DRLS
Rear Parking Sensors.
Interior Features
The 2021 Isuzu MU-X interior provides spacious and comfortable seating for 7 people. It features a quilt-stitched leather interior seating with a driver's power assist. A twin cockpit ergonomic interior design with a 7-inch premium display. The MU-X offers an 8-speaker system with speakers in the front door, rear door, tweeter and roof.
Also, as a standard across the distinct models, is an interior center front console with rear USB port for an electric device charger. If you upgrade to the Fully-Loaded, you gain a DVD monitor for the 2nd Seat and Auto Cruise Controls.
7-Seater – Leather Seats with power adjustment
7" Touchscreen, Bluetooth, USB
8-Speaker Sound System
Automatic Airconditioning
Dual Glovebox Design
Rear DVD Player, Rear A/C
Top Safety Features with 8 Airbags.
Isuzu D-MAX Pickup
The Isuzu D-MAX comes from a lineage of the world's toughest, most reliable trucks. Almost a century of truck-manufacturing DNA has gone into the ISUZU D-MAX to deliver a pick-up that truly redefines the category, with premium luxury features built into a truck.
The D-MAX features Isuzu's 'universal design' concept driver's development. This includes features that are intuitive to use and easy to reach, which greatly improves occupant and driver comfort and convenience. Isuzu D-MAX makes for easy access to the cabin offering generous head and leg room as well as comfortably designed seats for every occupant.
A Whole Host of Features
The Isuzu D-Max comes in three (3) comfort lines, with each offering distinct features:
D-MAX LS Semi-Loaded- Double Cabin- 2.5L Turbo Diesel, 4×4 Automatic Transmission
Features cloth seats, 16" alloy wheels, Bluetooth, LED headlights and various convenience features.
D-MAX LS LIMITED- Fully Loaded- Double Cabin- 3.0L Turbo Diesel 
Features leather interior seating with a power electric adjusting driver's seat, 18" Aluminum wheels, 7 inch Display "Premium" Touchscreen, Rear View Camera, Smart Key with Push Button Start, "Premium" LED Projector Headlights, 10 Cup Holders, Automatic Air conditioning and a complimentary Genuine Isuzu Accessory Kit which includes: an over-the-rail Bedliner, Sports Bar, Running Board Side Steps, Window Visors and Floor Mats.
D-MAX GT- Fully Loaded- Double Cabin- 3.0L Turbo Diesel
Features all of the LS LIMITED features plus a two tone black/red Leather Interior Seating, red decorative inlays, 18" Two tone Matte Black + Aluminum finished Wheels, X-Series LED Projector Headlamps, Front Fog Lights with Medium Dark Grey Garnish, GT Decal stickers, plus a Radiator Grille in with Medium Dark Grey Color, Accessory Kit (Under the rail Bedliner, Cargo Spoiler, Skirt Set, Door Visor for Front and Rear, Isuzu Floor Mats).
Additionally, both the Isuzu MU-X and D-MAX come with 3 Years, 100,000 km warranty for that ultimate peace of mind.
Isuzu's "Trucks For Life" boast over 100 years of experience in making trucks and diesel engines which encompass the following accolades:
#2 Selling Compact Pickup Truck Worldwide. Over 300,000 sold annually.
#1 one in the world for manufacturing diesel engines.
Legendary Common Rail Turbo Diesel 3.0 Engine-130KW, 430NM Torque. Generally used in big commercial trucks, fitted to power the D-MAX & MU-X for incredible longevity.
Best in Class Towing Power – 3.5 Tons/3500kg/7700lbs
Best in Class Payload Capacity- Up to 1282kg/2826lbs
Best in Class Fuel Efficiency
Award Winning Truck
8x Winner- Best Workhorse Pickup- Trade Van Driver UK
2020 Best Pickup Of the Year- WhatVan?
2020 Best Model- 4×4 Magazine
The Isuzu trucks and SUVs are tough & rugged yet stylish & safe, and made to last forever! Visit Motorworld today to experience this exclusive Isuzu quality. Sign up for a test drive, and set a date for your next adventure, as you take home your All New 2021 Isuzu MU-X and/or the D-MAX.