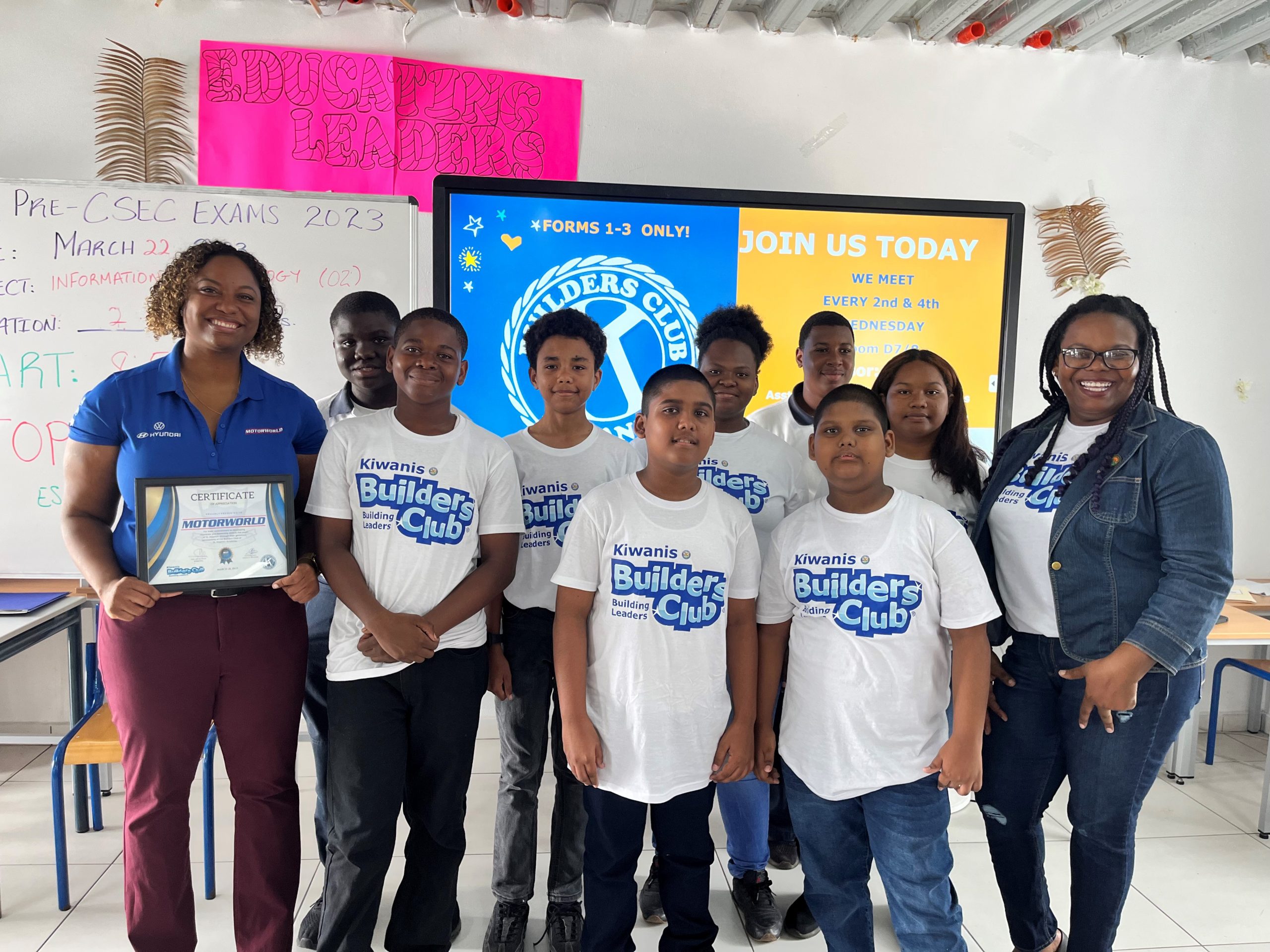 Motorworld Sponsors St. Maarten Academy Builders Club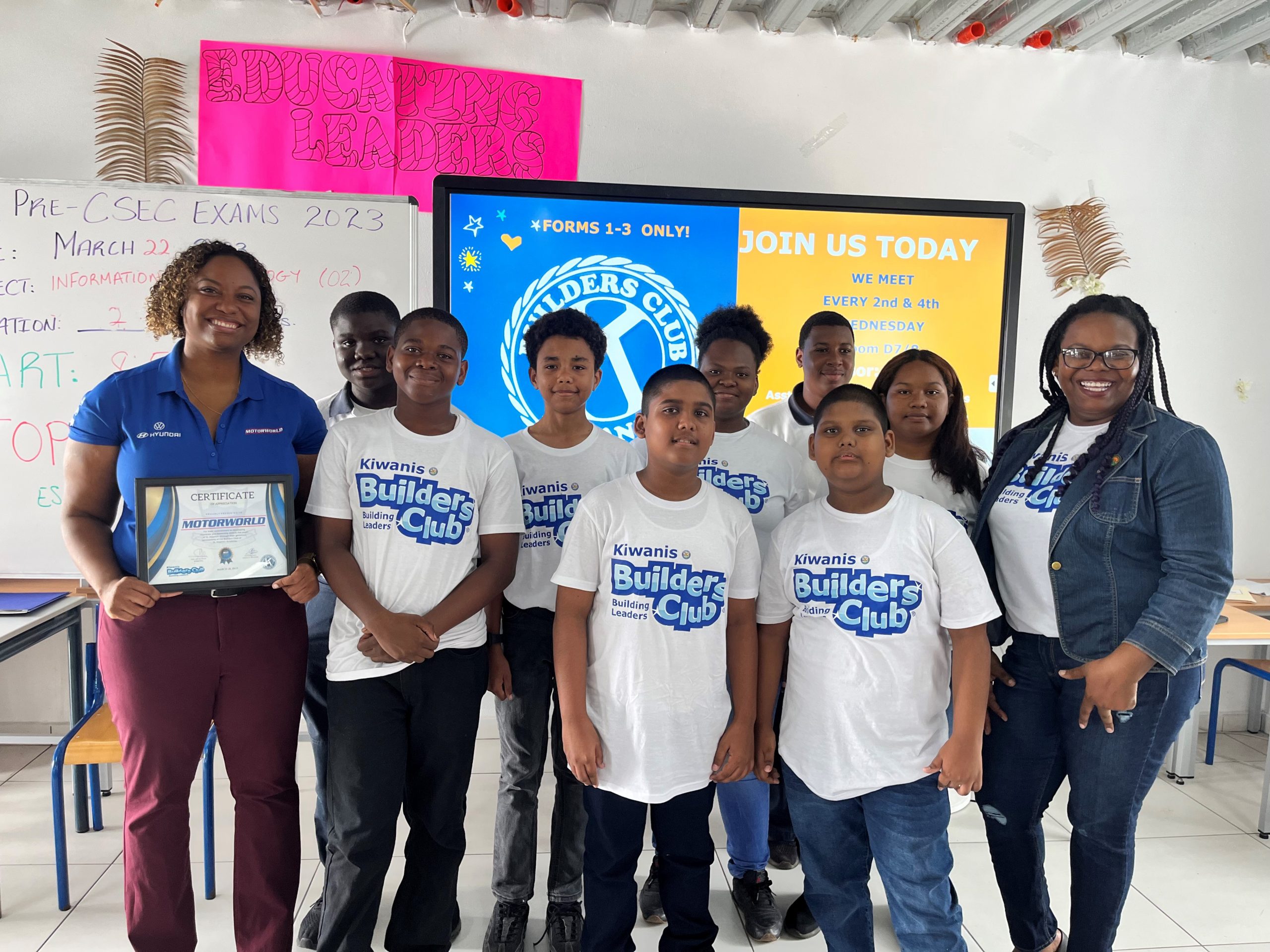 St. Maarten Academy's Builders Club on Wednesday unveiled its service activities in a special meeting convened to celebrate Kiwanis International Builders Club Week, March 20-24, 2023.
Builders Club, a Kiwanis International children's program, provides opportunities for students of Basic Secondary Education (Forms 1 & 2) to develop initiative, build character and leadership skills through service.
Led by the school's Vice Principal, Ms. Joanna Trim, Wednesday's event saw this year's sponsor – Motorworld – teachers, and community supporters being recognised for their contributions.
The Builders Club members of St. Maarten Academy offer homework assistance at the Rev. John A. Gumbs Campus of Methodist Agogic Centre (MAC), volunteer their time to support the Soualiga Youth Basketball Association (SYBA); visit the White and Yellow Cross to bring cheer at Christmastime, participate in cleaning the beaches around the island, to name a few.
In accepting the Certificate of Appreciation, Ms. Nympha Richardson – the Digital Marketing & Communications Manager at Motorworld, recapped her days giving back to the community and encouraged the youngsters to be proud of serving their community.
"As the sponsoring organization, we acknowledge the importance of building future leaders who keep the community at heart. It is your service-mindedness that makes this island a beautiful place to live."
These sentiments were echoed by Mrs. Kim Lucas-Felix, Principal (ag) who commended the students on becoming the charter members of the first Builders Club on the island of St. Maarten.
"At St. Maarten Academy, we believe it's important to give lower school students the opportunity to give back to their community, to participate in service and to have time together in an atmosphere that allows fellowship and fun," said Lucas-Felix. "It's important for children to learn about service, to volunteer, and to help others."
Mr. Jamal Newton, Afternoon School & Activities Coordinator at JAG Campus, urged the Builders Club members to continue in their passionate service to others. Newton recalled mentoring Club President Anthony Klien, Joshua Henry (Secretary), Aramis Santos-Montilla (Webmaster), Gregory Galvez and other JAG while they were at elementary school and expressed how proud he was to see them now mentoring pupils from their alma mata. Newton commented: "These students show up consistently and are great to work with because they are disciplined. They have supported our students, assisted with our SXM DOET and even show up to serve as attendants at the Basketball games of the Soualiga Youth Basketball Association (SYBA)."
The Management of St. Maarten Academy extends sincere appreciation to our island's leading motor company – Motorworld for their generous sponsorship of the Builders Club of St. Maarten Academy. Further, President Klien in his address to the club at Wednesday's meeting declared: "We are in the business of building leaders…Keep in mind, this is just the beginning of something much bigger."